WHAT IS UVShield?
LLumar® UVShield™ is an optically clear film that is professionally applied to the interior of your car's windows. UVShield's virtually invisible protection blocks 99.9% of harmful UVA and UVB rays.

ULTRA-VIOLET FACT
What most people don't realize is you can be at risk even in your own car or home since glass does not screen UVA rays which makes up over 90% of the UV that reaches the Earth's surface.

FOR THE HOME
Being behind glass windows or doors in a home does not necessarily block out UVA rays. UVA accounts for 90% of the sun's most damaging rays here on Earth. UVA rays streaming through your home windows not only adversely affect your furnishings, but are damaging to your skin and may contribute to wrinkles, photo damage, or worse . . . lead to cancers of the skin. With one out of five Americans developing Skin Cancer these days, who wants to take a chance?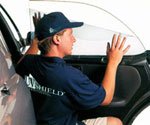 "As a Melanoma survivor I will recommend Eastern Glass Tinting Co. and the UVShield product to everyone I meet."
Joan R.
Chestnut Hill, Mass.
  We're located in Boston

We have been tinting autos, homes, buildings
and boats since 1985. You can trust us to do
the job right with the very best window films.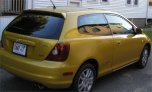 Need info about UVShield for your home or business? Simply complete our Easy Online Form and we'll contact you.
Get a FREE quote for your vehicle with our Online Form.
Find Directions to our drive-in facility in Boston.
Send e-mail to: UVShield@tint-it.com for more information on the LLumar® UVShield™ product.