Top Quality Window Coverings for Homes, Offices or Entire Buildings.

---
WHY WINDOW COVERINGS? Today's buildings utilize more glass than ever before. The trend toward open floor plans, high ceilings and extensive use of glass has become the preferred standard. New double-paned or insulated windows can sometimes pose a problem when trying to prevent heat, glare and ultra-violet rays. As darker window films can absorb more heat than the glass and seals can handle without failing, our line of affordable custom window shades and coverings solve the problem effectively and make rooms look sharp, inside and out. Top Quality Window Coverings - Fast Service!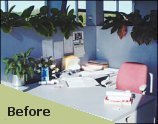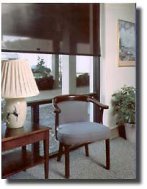 Quick service - Window coverings or blinds in as few as 2 days. Complete office buildings can be quickly outfitted with custom top quality window coverings at discount prices. Our selection of custom window coverings and shades is large and will suit any circumstance. Consultation is always free so please call us with any questions, concerns or to place an order at (617) 912-1040.
---
Estimates are FREE,
Our Expertise is Priceless!
Call (800) 201-8468
Today!