Designer window films, frosting, door lettering - We can obtain any film for your specific office or residential requirements

---
YOU'LL FIND DESIGNER WINDOW FILM EVERYWHERE... Banks, conference rooms, building entrances, thousands of office spaces throughout the city of Boston - everywhere! And nothing adds a little style and a touch of class to your office or building like a custom glass filming application from Eastern Glass Tinting. Do what thousands of others have done before you, call Eastern Glass Tinting today and decide if a custom designer film application is what you are looking for!

Top Quality Films, Reasonable Prices, Fast Service!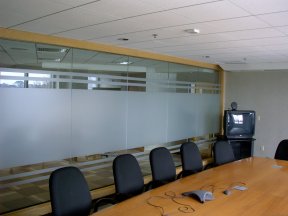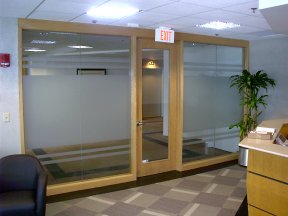 Over 25 years of window film experience No nonsense, professional window tinting with more than 25 years experience. Reasonable prices, expert installation and the very best window film available anywhere! We're responsive, we'll get the job done - you'll get the best films and the best prices. Inquire today by calling (617) 912-1040.
Interested? Inquiries or quotes for designer tinting from our

Find

to our deluxe drive-in facility one-minute from downtown Boston
View

of some designer film applications