... a must try application that applies in as little as 10 minutes and improves vision in foul weather and snow like nothing you've ever seen - rain and ice literally blow off the windshield!


TRIED AND TESTED
Our best customers? Bus drivers! They come back once a year - to have it applied to their cars and trucks.


LONG LASTING
When applied you actually need your wipers far less often - one application usually lasts about 8 months.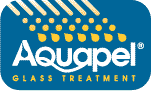 Rain Repellent Glass Treatment Aquapel® Glass Treatment improves a driver's ability to see clearly and drive safer. This innovative technology is a long-lasting rain repellant that:

Remarkably improves vision in the rain.

Causes rain to bead up and roll right off.

Makes it easier to clear ice, snow, and even dirt and bugs.

Reduces glare in the rain, especially at night.

Lasts for months in normal driving conditions.

Cost: $29.00 per vehicle
(only $20.00 with any Tint Job)

To treat your vehicle with the Aquapel®
patented technology. Call us today!
(800) 201-8468